Regular price
Sale price
$14.99 USD
Unit price
per
Sale
Sold out
description:
Material: rhinestone + canvas
Item type: 5 d diamond painting (partially posted)
Color: as shown in the picture
Canvas size: Approx.30*30cm/
(1 cm = 0.39 inch)
Space: living room/bedroom/classroom/entrance
DIY diamond painting production steps:
1. Open the package and check whether the diamond painting tools are complete;
2. According to the color code of the resin diamond, choose a color on the plate. If the same color is pasted at a time, the speed can be increased;
3. Find the corresponding color code on the canvas, start pasting until it is finished;
4. After finishing, in order to make the diamond painting stable, you can put some books on the canvas for a while;
5. Finally finished, you can frame your results, decorate your home as much as you want, and add life to your home.

Precautions for DIY diamond painting:
1. Refer to the previous steps
2. If you don't know what color to use, please refer to the color table

Dear, pay attention! We sell semi-finished diamond paintings without the frame! Diamond paintings, only need DIY to glue the diamonds
note:
1. This is a diy diamond painting, it is not completed, you need to complete it yourself. All products are measured manually, please allow 1-2 cm deviation
2. Due to the difference in light and screen, the color of the product may be slightly different from the picture. Please understand that
Package content:
1 X Diamond painting (Rhinestone needs to be pasted)
1 set of X diamond painting tools (without painting frame)
Why Buy From Us?

✔ Free Shipping For All Orders!

✔ WE OFFER 30-DAYS SATISFACTION GUARANTEE WITH MONEY BACK...pssst, we will fix problems no matter how long it's been

✔ YOU CAN CONTACT OUR 24/7 CUSTOMER SUPPORT AT ANY TIME...we normally respond immediately

✔ ULTRA HIGH QUALITY PRODUCTS!
Share
View full details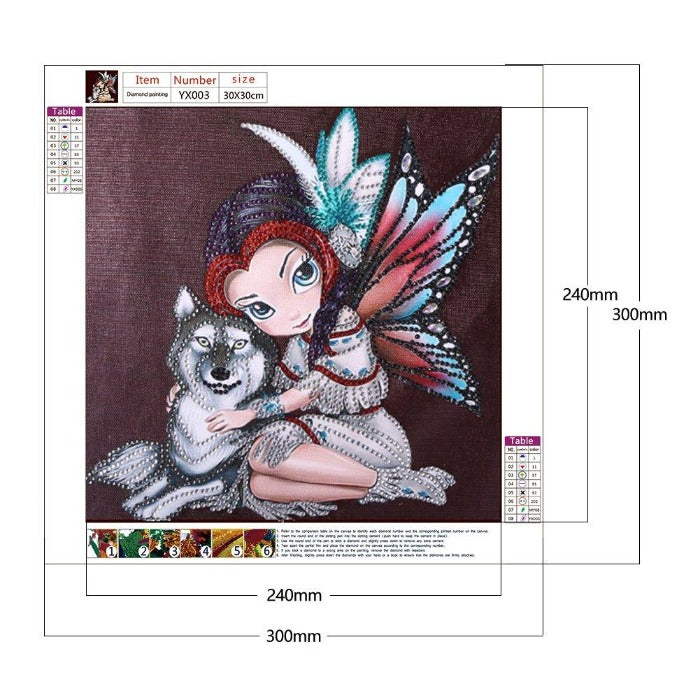 Description
description:
Material: rhinestone + canvas
Item type: 5 d diamond painting (partially posted)
Color: as shown in the picture
Canvas size: Approx.30*30cm/
(1 cm = 0.39 inch)
Space: living room/bedroom/classroom/entrance
DIY diamond painting production steps:
1. Open the package and check whether the diamond painting tools are complete;
2. According to the color code of the resin diamond, choose a color on the plate. If the same color is pasted at a time, the speed can be increased;
3. Find the corresponding color code on the canvas, start pasting until it is finished;
4. After finishing, in order to make the diamond painting stable, you can put some books on the canvas for a while;
5. Finally finished, you can frame your results, decorate your home as much as you want, and add life to your home.

Precautions for DIY diamond painting:
1. Refer to the previous steps
2. If you don't know what color to use, please refer to the color table

Dear, pay attention! We sell semi-finished diamond paintings without the frame! Diamond paintings, only need DIY to glue the diamonds
note:
1. This is a diy diamond painting, it is not completed, you need to complete it yourself. All products are measured manually, please allow 1-2 cm deviation
2. Due to the difference in light and screen, the color of the product may be slightly different from the picture. Please understand that
Package content:
1 X Diamond painting (Rhinestone needs to be pasted)
1 set of X diamond painting tools (without painting frame)